Launch emulators like

never before
App for launching iOS and Android emulators.
Lightweight, Open source, fully native.
Compact but powerful
MiniSim sits in your menubar and offers a lot of handy utilities.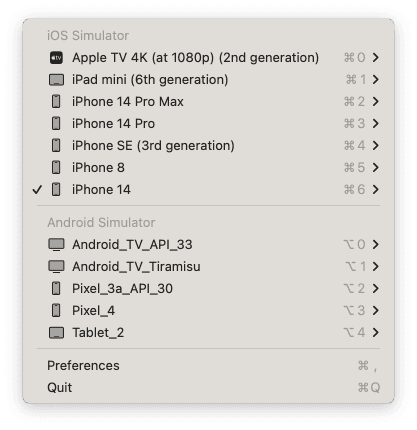 Features
Some of the features that make this app stand out. More features coming soon!
Launch emulators
All your emulators right in your menu bar without opening Android Studio or Xcode.
Copy device name and ID
Makes it easier to execute custom CLI commands.
Toggle Talkback
Allows you to quickly turn on/off accessibility on android emulators.
Launch without audio
No more messed up music playing through your headphones while launching emulator.
Paste clipboard to emulator
No need to wait for the popup allowing you to paste!
Cold boot
The best way to restart your emulator if something is not working.
Raycast Extension
If you want to control MiniSim from your keyboard, you can use the Raycast Extension.